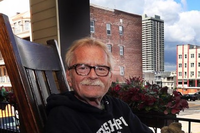 Frank R. Pileggi
Frank Robert Pileggi 65 of Atlantic City.
We regret to announce the passing of Frank on Wednesday, July 10, 2019.
Frank was born in Atlantic City to his parents Mary and Joseph Pileggi and he was a lifetime shore resident. He lived a rich life filled with dear friends with whom he shared many happy times. Some of his closest friends have been together since high school. Frank was an avid sports fan who enjoyed discussing that latest game as much as he enjoyed watching it.
Frank worked at the Inn at the Irish Pub for the past 30 years where he was loved by guests and coworkers alike. But Frank's true love was Atlantic City. He passionately discussed the inner workings of the city on his radio show "Frank Talk" for almost 6 years. He hoped his discussions would help redefine the city's future.
Frank is survived by his brother Joe (Louise), his nephew Joe (Joy) and grand-niece Elianna.
A Mass of Christian Burial will be Celebrated for Frank Robert Pileggi 11:00am Thursday, July 18, 2019 at St Nicholas of Tolentine RC Church, Tennessee and Pacific Avenues, Atlantic City. Relatives and friends are invited to his viewing from 9:30am at the Church. The Rite of Committal will be offered at Holy Cross Cemetery, Route 40 in Mays Landing, following Mass. In lieu of flowers, donations may be made in Frank's name to: The Friends of Historic St. Nicholas of Tolentine, AC. Arrangements by the Gormley Funeral Home LLC, AC.