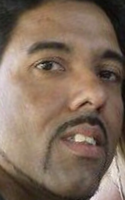 Frank Cruz
Frank Cruz 45 of Hammonton, NJ. He was born in the Bronz, New York, left us to be with the Lord on May 30, 2019.
He was a loving Father, brother, son and friend; a talented mechanic, he has a huge heart and loved to help others no matter the sacrifices. Anyone who had the pleasure to know him could not resist his contagious laugh and smile.
Frank is predeceased by his mother Isabel Cruz. He is survived by his father Candelario Cruz Sr., his twin brother and best friend CJ Cruz; 6 children and many loving family members.
A Memorial Service will be held for Frank Cruz on 12:00 Noon Saturday, July 20, 2019 at St. Nicholas Church, St. Louis Avenue, Egg Harbor City, NJ. All are welcome.