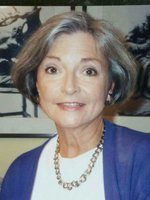 PATRICIA BISHOP-LATZ
BISHOP-LATZ, PATRICIA, (nee SMITH) 76
formerly of Atlantic City, passed peacefully in her home in Northfield, NJ on Friday, August 11, 2017.
Patricia was born on the kitchen table in Baltimore, MD to her parents William G and Mary (nee Crist) Smith. A short time later their family returned home to Atlantic City, settling in Brigantine where Pat spent her formative years. She was a devoted Catholic receiving her parochial education at Our Lady Star of the Sea Grammar School and graduating from Holy Spirit High School - Class of 1958. She then attended Cabrini College in PA.
Patricia married Daniel J. Bishop whose family owned the Bishop' Savoy restaurant in Atlantic City. They were married for 39 years and raised four children together. Pat, Danny and their children enjoyed living in many different locations - Bermuda, St. Simon's Island and the Florida Keys. Pat's talents are too many to mention -she loved to create and design. There wasn't a project she couldn't tackle. Pat was very proud of her Irish heritage and loved her cousins - the Scanlon's of Wicklow, Ireland. She spoke of them often and fondly. After Danny's passing she made her home in Miami. Patricia later married Simon Lowey (Jim) Latz former owner of the Knife and Fork restaurant, enjoying their marriage until Jims passing. Her last years she resided with her son Keith and his wife Mary ("Mom. it's been our honor")
Patricia was the one in the crowd that always drew the high card in her life. No matter the situation there was always a positive, and a reason for everything good or bad. God had her pass this lesson on to all she knew in her life. The people that were blessed to have her as family or friend - knew this about her. This is why anyone she touched during her lifetime was amazed at her strength. God will continue to carry her as she moves on to her next journey.
A note from Pat's daughter Katy: Mom always created a happy home full of love. No matter what came her way she always turned it into something beautiful. She was the most positive person I've known. Sometimes when life handed her lemons she made lemonade. This lesson has guided me to be able to follow her example. My mother represented grace, elegance, and a positive outlook on life! She gifted me with wisdom, strength, love, and most importantly, compassion for other! I was blessed having her as a mom and I can now hand down all she taught me to my daughter Asia. I love you mom!
Patricia is predeceased by her parents William and Mary; her husband Daniel and their son Christopher, also by her husband Jim. Patricia is survived by her children; sons Keith (Mary) and Brian (companion Bonnie Fleming); daughter Katy (Patrice) Landauer; her five grandchildren; great grandson; many nieces and nephews; siblings Kathy (Joe) Schreiner, Michael (Debbie) Smith; her extended family The Latz's and countless friends.
A Mass of Christian Burial will be Celebrated for Patricia Bishop-Latz 11:00am Friday, August 18, 2017 at Our Lady Star of the Sea Church 2651 Atlantic Avenue, Atlantic City. Relatives and friend may call at the church from 10:00am. In lieu of flowers please make donations to: The Parkinson's Life Center, 314 Central Avenue, Linwood, NJ 08221. Arrangements by the Gormley Funeral Home LLC, AC.