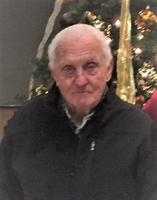 Joseph S. Burke
Joseph S. Burke 84 of Ventnor City, NJ passed away peacefully at home surrounded by family on March 23, 2018.
Joseph was born January 16, 1934 in Atlantic City. He attended Our Lady Star of the Sea Grammar School and Holy Spirit High School. Following High School Joseph entered the US Navy and served 4 years during the Korean War.
After exiting the war and the Navy, Joseph joined the Electrical Union, IBEW Local 98, and was a member for his entire working career. He was a avid Philadelphia sports fan--his favorite team being the Phillies.
Joseph is predeceased by his father, Thomas, mother Stella (nee Gnoza), and sister Rosemary Connor. He is survived by his wife Joan (nee Saxon); son Thomas (Maureen); daughter Donna; and son Michael (Jennifer). He is grandfather of Cindy, Trudy, Lauren, Ryan (deceased), Dylan, Angela and Calista. Joseph is also survived by 5 great-grandchildren.
A Mass of Christian Burial will be Celebrated for Joseph Burke 11:00am Wednesday, March 28, 2018 at St Michaels Church, 15 North Mississippi Avenue, Atlantic City, NJ. Friends and family are invited to his viewing from 10:00am at the Church. In lieu of flowers Memorial contributions may be made to: The American Cancer Society P.O. Box 22478, Oklahoma City, OK 73123. Arrangements by the Gormley Funeral Home LLC, AC.