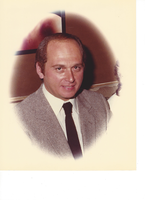 Mario F. Bongiovanni
Mario F. Bongiovanni 74 of Atlantic City, passed away March 15, 2018 with Family and friends by his side, at the Atlantic City Medical Center, following a brief illness.
Mario was born on February 9, 1944 to Frank and Rose ( Floriani ) Bongiovanni. He attended local grade schools and also graduated from Atlantic City High School. After his graduation Mario joined the military, namely the United States Navy, and did his active duty in the Mediterranean. After receiving his Honorable Discharge he came back to Atlantic City to assist his father with their family limousine business. During this time, he met and married his loving wife Carmen Voci. (They recently celebrated 50 years of marriage). Shortly after his marriage he joined the Atlantic City Fire Department and had a lengthy career of over 30 years, retiring as Battalion Chief. Following his retirement, Mario then spent his time as a Designer of Custom Kitchens and Cabinetry, continuing until his death. Mario was a perfectionist in everything he did. In his spare time he loved Boating, Fishing and Hunting.
Mario is preceded in death by his parents Frank and Rose Bongiovanni; in-laws Matthew and Frances (Chubby) Fox and Charles T. Connor. He is survived by his wife Carmen, son Mario, daughter Gina ( Gavin) Mirigliani; grandchildren Enzo and Giada, and his best buddy Mugsy. Also surviving Mario are: his sister Annette ( Fred) Bailine, brother Frank (Geri) Bongiovanni; sister-in-law Marie Connor, brother-in-law Joseph (Susan) Voci and brother-in-law Gregory ( Jeannine) Voci. Mario also leaves behind numerous much loved nephews, nieces, and cousins.
The family would like to offer a special thanks to the Atlantic City Medical Center third floor Intensive Care Unit: to all of the Doctors, Nurses, and staff who assisted in the care of Mario, and also to the Atlantic City Fire Department for being there for the family.
A Mass of Christian Burial will be Celebrated for Mario F. Bongiovanni 11AM Monday, March 26, 2018, at St. Michaels Church 10 N. Mississippi Avenue, Atlantic City. Visitation will be from 9:00 to 11:00 AM. The Rite of Committal will be offered at the Mausoleum of Holy Cross Cemetery, Route 40, Mays Landing, NJ. In lieu of flowers the family requests contributions be made to St. Michaels Church c/o St. Monica Parish 2651 Atlantic Avenue, Atlantic City, NJ 08401 or The Humane Society of Atlantic County 1401 Absecon Boulevard, Atlantic City, NJ 08401. Arrangements by the Gormley Funeral Home LLC, AC.