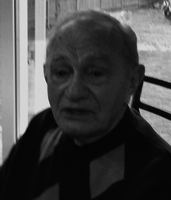 Louis Steven Materio
Louis Steven Materio 86 of Egg Harbor Township passed away peacefully at home on March 4th, 2018.
Born on May 10, 1931 to Steven and Catherine Materio, Lou grew up in Atlantic City's Ducktown area and his love for his neighborhood never left him. He spent many years as an Atlantic City Jitney driver serving on the Association's executive board as Vice President. As a young man, he skillfully applied his trade as a stucco and plaster mason in Atlantic City, and his work can still be seen on some of the City's most notable buildings.
Louis is survived by his sons, Steven (Rita)Materio of Egg Harbor Township and Michael of Atlantic City and his Grandchildren; Heather and Vincent Monacelli, Nicole and John Walling, and Michael Materio. Lou is also survived by his beloved Great-Grandchildren; Mia and Vincent Monacelli and Ella, Olivia, and Isabelle Walling. Uncle Lou also leaves behind dearest Niece Cathy Sawyer and many much loved Nieces and Nephews to cherish his memory. Elvis Amakye who came to Lou in his last year, became not only his caregiver, but a close and dearly loved friend.
A Mass of Christian Burial will be Celebrated for Louis S. Materio 11:00am Friday, March 9, 2018 at St. Michaels Church 10 North Mississippi Avenue, Atlantic City. Family and friends may visit at the church from 10:00am. Burial will be private. Arrangements by the Gormley Funeral Home LLC, AC.