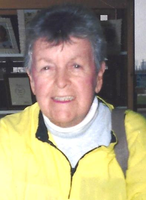 Lauretto Margaret "Rett" Miller
Miller, Lauretto M. (nee McErlain) "RET" of Atlantic City, passed away peacefully at Meadowview Nursing Home in Northfield on Monday, March 5, 2018.
Ret was born on September 12, 1917 in Atlantic City, the daughter of the late Ida Mae and Jack McErlain. She was one of six girls growing up in Atlantic City, all very active in sports and dancing to the big bands on Steel Pier. She was baptized, attended grammar school, got married, volunteered with the students, and will have her funeral Mass, all at Our Lady Star of the Sea. She married the love of her life, Warren Miller, "Skeets", in 1947, and bought a Sears and Robuck home in Chelsea Heights in 1949. They lived there for 60 years before Skeets passed and then Ret took up residence at Meadowview, sharing a room for six years with her older sister Dot.
Ret was an avid and formidable tennis player, playing and competing against athletes, some less than half her age. She played well into her 80's. She loved her home and garden, and occasionally entertained family and friends for BBQ, badminton, croquet, all in the backyard. It was not unusual to see her biking with Skeets and other friends on the AC Boardwalk.
She was the fifth born daughter, six years older then baby sister Priscilla "Pat" Hyde. She was very giving of her time on days off from work, helping Pat with the care of her nine children. She treated the Hyde children once a summer to Flanders pool activities in Ocean City, which was always very memorable. Through the years she worked for a few local doctors including Dr. Stern, Dr. Abbott, and many years for Dr. McCracken. In retirement she volunteered with the students of Star of the Sea School, who, nuns and students alike, adored her. She and her sister Dot, sometimes referred to as "Arsenic and Old Lace", volunteered at the "Lucy the Elephant" gift shop. Her energy, spirit, sense of humor and enthusiasm will be sorely missed by many.
She was predeceased by her parents, Ida Mae and Jack McErlain, sisters Peg Sweeney (Jack), Jule Steinberg (Harry), Helen Kennedy (Jack), Dot Headly (Bob and Dan), brother-in-law Bud Hyde and her husband, Skeets Miller. She is survived by her sister Pat Hyde, and many loving nieces and nephews.
A Mass of Resurrection will be Celebrated for Lauretto Margaret Miller 11:00am Friday, March 9, 2018 at Our Lady Star of the Sea Church 2651 Atlantic Avenue, Atlantic City. Family and friends may visit from 10:30am at the Church. The Rite of Committal will be offered at Laurel Memorial Park Cemetery, Tilton Road, EHT, following Mass. In lieu of flowers, donations may be made to: Meadowview Nursing Home and Rehabilitation Center, 235 Dolphin Avenue, Northfield, NJ 08225, or Our Lady Star of the Sea School, 15 North California Avenue, Atlantic City, NJ 08401, or to a charity of your choice. Arrangements by the Gormley Funeral Home LLC, AC,