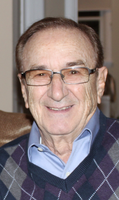 Joseph L. DeLuca
Joseph L. DeLuca 92, of Ventnor, passed away peacefully at home on March 1, 2018. He was born on January 22, 1926 in Atlantic City to Mariano and Mary DeLuca. Joe was a 1944 graduate of Atlantic City High School and a U.S. Army veteran who served in Europe during World War II. He joined the United States Postal Service in 1949 and retired as the Branch Manager of Ventnor after 40 years of service. Joe also worked for over 30 years as a teller at the Atlantic City Race Course.
Joe was a loving person who made everyone feel special. His greatest love was Mary, his wife of 66 years, and the family they created together. He always enjoyed bringing everyone together for Sunday dinners and holidays. He cooked pancakes and sausage every Christmas morning for the entire family of 50, in a tradition that will be so missed. Joe loved boating, fishing, and crabbing in the Ventnor bay with his children, grandchildren and great grandchildren and made it a point to take everyone out each summer. He enjoyed the casinos and racetrack and when asked how he did, always "broke even." He was always ready to help and there was nothing that he couldn't fix. We each have our own very special memories of our father, father-in-law, grandfather, and great-grandfather that will be cherished forever. He lived life to the fullest, taught us the importance of family, and will always hold a special place in our hearts. We will terribly miss this wonderful man, but are so grateful for all of the time that we shared.
Joe was predeceased by his wife and love of his life, Mary. He was also predeceased by his sister Mary and brothers Santo and Domenick. Joe is survived by his children, Mario (Shelly) DeLuca, Nancy (Fred) Pugh, Joe (Cathy) DeLuca, Marie (Steve) Weierbach, John (Kathy) DeLuca and Anthony (Miriam) DeLuca. He is also survived by his grandchildren, Fred (Greta) Pugh, Stacey (Buddy) O'Brien, Michael DeLuca, Brian (Holly) Pugh, Nicole (Dave) Gagliardotto, Joe (Erica) DeLuca, Marissa (Ryan) Sharpe, Katie, Jenny, Emmy, Anthony and Mia DeLuca as well as 18 great grandchildren. Joe will also be missed by his extended family and lifelong friends.
A Mass of Christian Burial will be Celebrated for Joseph DeLuca 10:30am Monday, March 5, 2018 at Holy Trinity Parish, St. James Church, Portland and Atlantic Avenue, Ventnor, NJ. Friends may call at the church from 9:30am. The Rite of Committal will be offered at the Atlantic City Cemetery, Pleasantville following Mass. Arrangements by the Gormley Funeral Home LLC, AC.