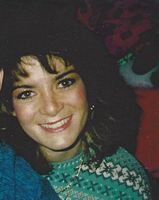 Claudia Billings
Claudia Billings (nee Thomas) 52, of Absecon, beloved daughter of Adam (Jim) and Dolores Thomas. Claudia passed away peacefully surrounded by her family on January 15, 2018.
Claudia was born in Atlantic City and attended Our Lady Star of the Sea Grammar School and Holy Spirit High School. She worked in a variety of fields, in all of which she was able to use her wonderful gifts of communication and humor. She had a spirited personality, with a unique ability of befriending others and making them feel comfortable in her presence. Claudia was fun-loving, adventurous, intelligent, kind and courageous. She leaves our family and numerous friends with fond memories and broken hearts.
Claudia is predeceased by her beloved brother Matthew Thomas. She is survived by her children Allyson, Luke and Hannah Billings of Arvada, Colorado; her brother James Jude Thomas of Woodbine Development Center; sisters Christine Thomas of Northfield, Dawn Loyle (Frank) of Absecon, Patricia Holland (Ward) of Margate, and Kathleen Given (Kelly) of Atlantic City, as well as many nieces, nephews and cousins.
Our heartfelt thanks to Shore Memorial Hospital and their magnificent staff of doctors, nurses and Comfort Ministers; Holy Redeemer Hospice-especially Cassie; Father John Perdue (Missionaries of the Sacred Heart); Father Jon Thomas (Parish of St. Monica), and Dr. John Santoro whose caring and compassion for Claudia was unparalleled. Heaven is now a happier place with Claudia there.
A Happy Celebration of Claudia's life is planned for the near future. Date, time and location of the Celebration will be posted in the paper.